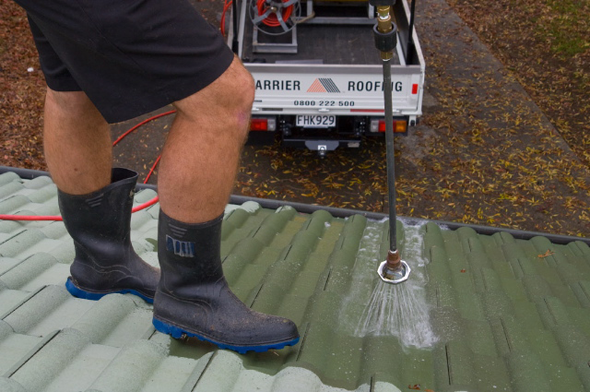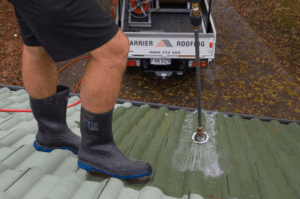 Whether you need roof cleaning for your house, a rental property, or an industrial building – Barrier roofing offer roof cleaning Auckland-wide. Treat your house to a roof wash today!
Have you got a dirty roof and gutters and need roof washing?
Barrier has been cleaning roofs of homes and commercial buildings, Auckland wide since 1978.
Why should you clean your roof?
Removing organisms that stain your roof like algae, moss and lichen that can damage your roof surface.
Roof algae, lichen and moss can penetrate your roof and attack the timber framing causing rot.
In extreme cases, your insurance company may cancel your insurance.
A dirty roof does not reflect sunlight in the way a clean roof does.  Your dirty roof can cause your ceiling cavity or attic to get extremely hot in summer.
Cleaning your roof annually can prolong the life of the surface coating giving you a cost-saving alternative to re-roofing years sooner than needed.
Cleaning your roof reduces the risk of animal and insect invasion. Rotting wood attracts a variety of insects.  They attack weak spots in your timber and make their home.  Birds then eat the insects and soil your roof.
Call Barrier for a quote on cleaning and prolonging the life of your roof.
Trust Barrier to keep your roof weatherproof and looking good.
Accurate pricing is assured with a realistic assessment of what is involved in your project.
A quality control process is put in place and at each stage of the project, you are are kept informed of progress.
Our team are trained professionals and have years of experience in providing solutions for your roofing
Purpose built equipment is used in the maintenance or re-roofing of your home or building.
Only high quality roofing products backed by warranties are used on your roof.
Barrier Roofing are members of The Roofing Association of New Zealand.
All our projects adhere to the very latest health and safety regulations.
All debris is removed from your site at the completion of each stage.
Fill out the form below now for a quote