If you need roofing maintenance, then check out Barrier's roof maintenance services. We are one of Auckland's top and trusted roofing contractors.
We've been keeping domestic roofs looking great since 1978 and are licensed by the Department of Building and Housing to provide services to concrete, clay tile, metal tile and profiled metal roofs. Offering roof maintenance Auckland wide!
We've been keeping domestic roofs looking great including concrete and clay tiles, metal tiles, and profiled metal roofing since 1978.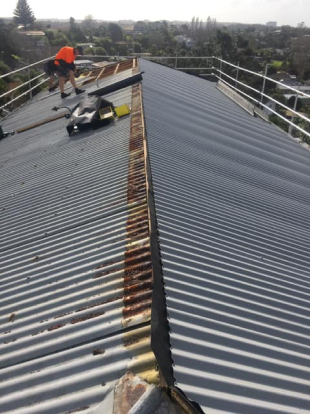 Roof repair and maintenance services include:
Roof cleaning and moss treatment to protect and prolong the life of your roof.
Repair of roof leaks creating a weatherproof roof.
Bedding of ridge capping tiles on concrete and clay roofs.
Repointing hips and ridges
Recoating concrete tile roofs
Rechipping and recoating Gerrard Metal Tiles and decramastic tile roofs.
Longrun metal roofing, cleaning, repair and repainting.
Fill out the form for a quote
Give us your details and we'll be in touch for a no-obligation quote.
Bedding & Pointing
Concrete and clay-tiled roofs have ridge capping to keep your roof watertight. The Capping tiles run along each ridge of your roofline. In the image above you can see a roof that has recently been re-pointed, prior to resurfacing.
Bedding refers to the mortar used to support the ridge capping. This bed cracks over time as the bedding shrinks and the capping ridge may move as the roof ages and the binding between bedding and capping ridge deteriorates.
Pointing refers to a thin mix of coloured sand and cement, its purpose is to bind to the bedding and blend with the roof tiles.
Re-pointing is required when the capping ridge moves and your roof has lost weather resistance.
Barrier roofing company has been bedding and re-pointing concrete and clay tile roofs since 1978. Contact us to discuss your needs.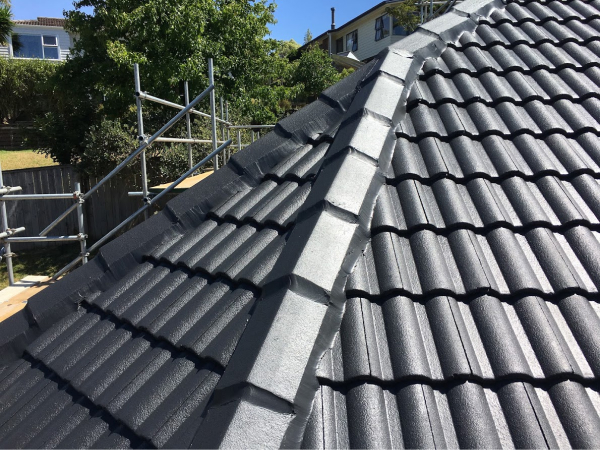 Trust Barrier to keep your roof weatherproof and looking good.
Gerard is a trusted name in roofing products, operating in 120 countries. Gerard provides an attractive, strong, lightweight roof tile option.
Gerard offers you peace of mind with a 50-year warranty for weather resistance, 20 years for the textured surface coating and a 15-year satin surface coat warranty.
Accurate pricing is assured with a realistic assessment of what is involved in your project.
A quality control process is put in place and at each stage of the project, you are kept informed of progress.
Our team are trained professionals and have years of experience in providing solutions for your roofing.
Purpose-built equipment is used in the maintenance or re-roofing of your home or building.
Only high-quality roofing products backed by warranties are used on your roof.
Barrier Roofing Company is a member of The Roofing Association of New Zealand.
All our projects adhere to the very latest health and safety regulations.
All debris is removed from your site at the completion of each stage.
If you have any questions, contact us.